---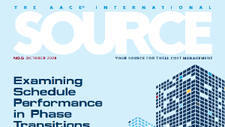 Latest Issue of Source Magazine: Available Now
The October Source magazine is posted and available to members and non-members at no charge.
This issue features a President's Message by AACE President Chris Caddell, PE CCP DRMP, titled. The Flexibility to Evolve." The message gives readers an overview of work under way to draft a new Constitution and Bylaws for the Association. Once complete, it will be presented to the members for a vote. The goal on one hand is to streamline the documents to provide future leadership greater flexibility to evolve as the world around us changes and the Association needs to adapt. But on the other hand, we need to ensure we protect what makes AACE so valuable to its members. One of the Board's top strategic objectives is to look at updating the organization structure and operating model to better position AACE to meet the future needs of the Association and all its members. Read all about this in the October Source magazine.
Check out the bonus technical article, "Examining Schedule Performance in Phase Transitions on Vertical Construction Projects," by Daniel P. Gilmour, PSP and Matthew L. Pringle, PSP. This article was first presented as technical presentation PS.3087 at the 2019 AACE Conference & Expo.
This month's TED Talk is titled, "The Power of Vulnerability," by Brené Brown. This presenter studies human connection -- our ability to empathize, belong, love. In a poignant, funny talk, she shares a deep insight from her research, one that sent her on a personal quest to know herself as well as to understand humanity.
The Technical Board presents a short but powerful article titled, "Credibility Capital is Hard to Acquire but so Easy to Lose." The article is authored by Richard Plumery, EVP.
The Certification Board discusses "Psychometrics Made Easy." Authored by Sam Griggs the article looks at how the Certification Board applies psychometrics to improve the AACE certification process.
Jessica Colbert is profiled as the Women in Project Controls honoree for October and Ricky Payne, PSP is the Rising Professional profile honoree for the month. Read about their backgrounds and how they say AACE membership has assisted them in achieving career goals.
See page 23 for information on renewal of your AACE dues for 2021. It is that time of year and information has been posted at the AACE website so you can easily take care of renewal of your AACE dues prior to the December 31, 2020 deadline. Let us face the challenges of 2021 together by renewing today!
Finally, AACE members get ready for the November/December issue of the Cost Engineering journal. Tentatively scheduled for publications are three technical articles: Pre-qualifying Contractors for Today's Project Delivery Needs. First presented at the 2019 Conference and Expo as PM-3062. Authored by H. Lance Stephenson., CCP FAACE. Standard Cost Management From Spreadsheets to Automation. First presented at the 2019 Conference and Expo as IT-3064. Authored by Aleshia Ayers; Susan Bomba, PR; and Lamis El Didi. And, Cost and Schedule Risks Interact in Megaprojects. First presented at the 2019 Conference and Expo as RISK-3078. Authored by Dr. David T. Hulett, FAACE and Waylon T. Whitehead.
AACE International
726 East Park Avenue #180
Fairmont, WV 26554
---