---
日本支部各位、
AACE本部のお知らせです(2020年8月20日)。
TECH TALK再開
無料WEBINER(EcosysによるTCM)
RPコメントレビュー公開
無料ON-LINE COURSE
年会費の納入
---

In this issue...

-

-

-

-

-

-

Tech Talks Returns
AACE is offering members a free-of-charge opportunity to watch AACE Conference & Expo presentations for your personal continuing education, and if you are AACE certified, also earn CEUs toward recertification. Each presentation will be offered for one week, then it will expire. However, your CEUs earned will remain on your profile. The "Tech Talks" will be offered on Wednesdays for the period of time that our members will be working from home as a result of the COVID-19 pandemic.
We encourage you to engage with your fellow members and to share what resources, both work and home/family resources, that may help others navigate this difficult time.
Tech Talks are available for a fee for non-members.

Free Webinar: Achieving Total Cost Management with Ecosys
AACE's Total Cost Management (TCM) framework is a comprehensive body of work with principles, guidelines and approaches for successful project delivery. In this webinar, we showcase how the concepts of TCM align with the EcoSys Enterprise Performance (EPP) Solution Breakdown Structures (SBS) to provide a solution capable of improving project performance and supporting organizational goals and objectives. We'll discuss:
 - AACE Total Cost Management (TCM) Framework; Key process areas and deliverables

 - TCM and EPP SBS alignment; Why EcoSys is the perfect solution to support and enable the TCM

 - Improving efficiencies, becoming more predictable and taking greater control with an integrated TCM and EPP platform
 - Presenter: Graeme Hoey, Director - Product Management at Hexagon PPM
 - AACE's Host: Larry R. Dysert, CCP CEP DRMP FAACE Hon. Life 
 - Date/Time: October 27, 2020 at 2:00 PM Eastern (US)
 - CEUs: .1 CEU = 1 hour
 - Fee: a Free to members and non-members.

 Recommended Practices Out for Public Review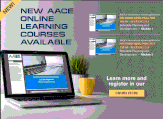 Free Online Learning Course Available
The The cost estimating module 1 is online learning course is currently available free of charge.
This course module covers the 2.2.4.1 Cost Estimating Skills and Knowledge: General Concepts competency from Recommended Practice 11R-88 Required Skills and Knowledge of Cost Engineering. Use this module to prepare for the CCT, CCP and CEP exams. This module includes AACE's Cost Estimate Classification System.
Members: Time To Renew Your Dues!
Now more than ever, organizations and individuals need AACE's resources and network to help solve their problems. Renewing your AACE membership before December 31 will ensure continuous, uninterrupted service and benefits. 
• Regular and retired members – log in to your AACE profile and click "Pay Open Invoices" to renew.
• Corporate Members & Partners and Public Partners – contact Gina Mazzetti for invoicing information. 
Let us face the challenges of 2021 together by renewing today!
AACE International
726 East Park Avenue #180
Fairmont, WV 26554
---